In my view, history as a discipline is in bad shape today because it has lost sight of its origins in the literary imagination.
In the interest of appearing scientific and objective, it has repressed and denied to itself its own greatest source of imagination and renewal.

— Hayden White, "The Historical Text as Literary Artifact"
This review will need to be a chronicle of one hour suspended in the space capsule that has for one year sedimented, unraveled, and reemerged at 75 Calle Durango, the site of Arqueología futura ("Future Archaeology"). We could call the anomaly conjured up by Roberto del Río, in one of the first Porfirian residences in Colonia Roma, an exhibition and a habitation and a cavern and a greenhouse.
It's evident that the house has its own history, from its architectonic volumes and lines tinged with Parisian nostalgia, vestiges of the antiquarian who once inhabited the space, as well as the successive terraforming layers constructed by Roberto—thanks to the fact that the pandemic turned an exhibition project into a residence for more than a year—up to the remodeling that's scheduled for when Agencia Ñú leaves the space and it continues in the hands of an architectural firm.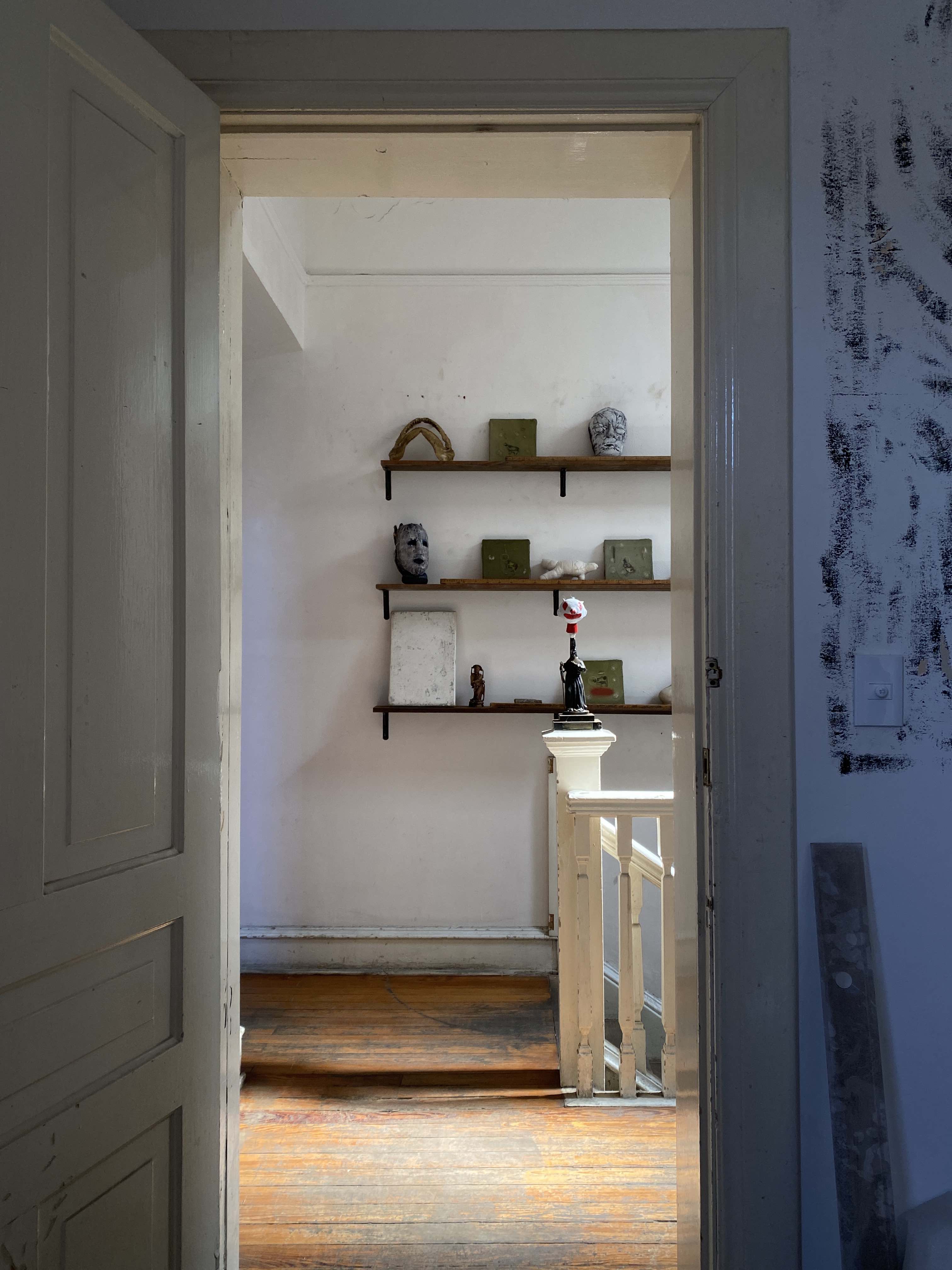 Do you like informality?
"I like it a lot, a whole lot," Roberto replied, clearly excited. In talking about the works it's first necessary to make something clear to readers: you shouldn't imagine units that are delimited in the conventional sense—a painting, a sculpture, an installation—but rather kinds of zones strewn with objects where the boundaries between one and the other may vary.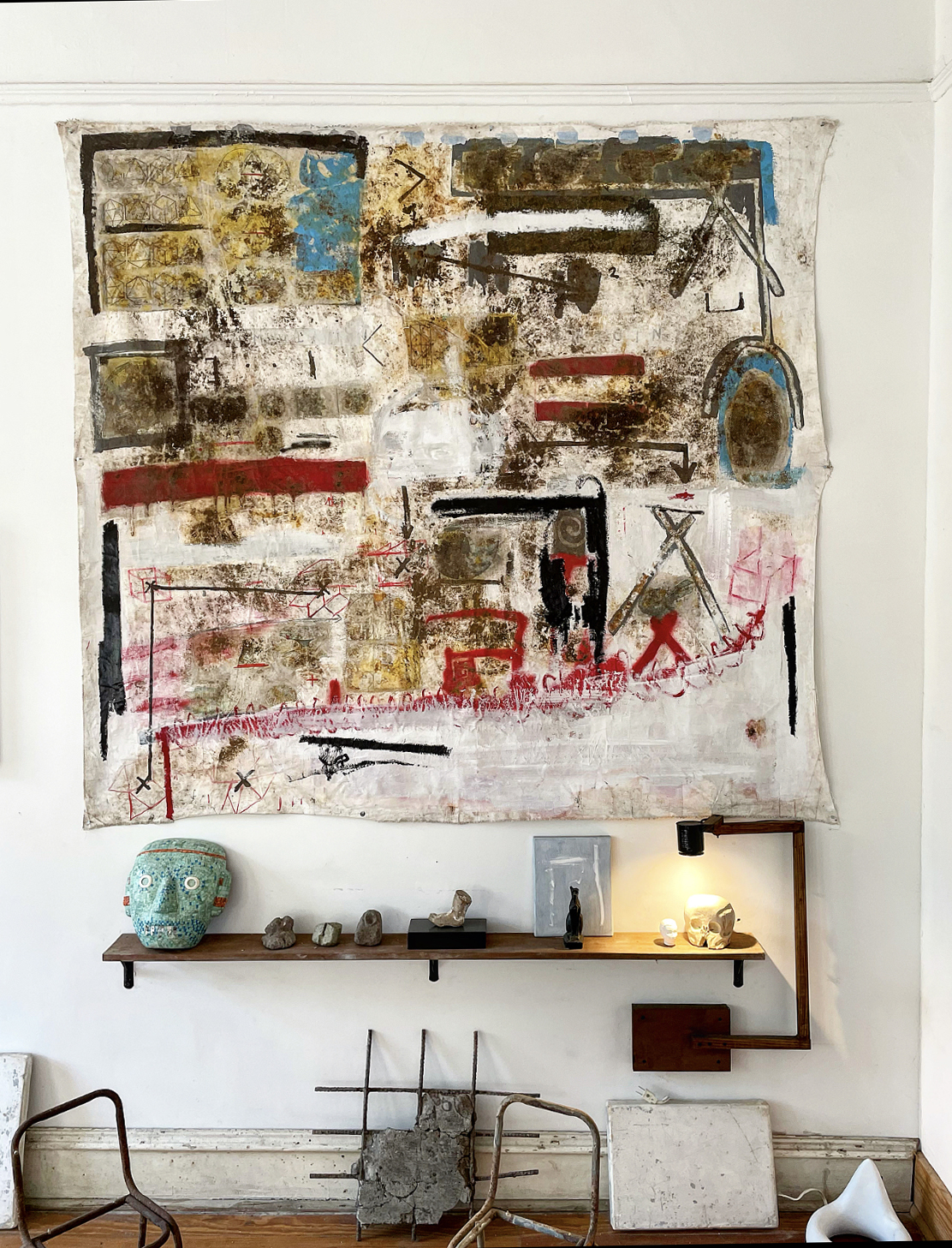 "How far does this work go?", I asked while in one of the rooms on the second floor. "Mmm…", contemplated Roberto, "the painting and the shelf; it would be everything that goes on the wall [...] they're like modules; I could also separate them." His work consists of a kind of integrative theory focused on the duration materialized in archaeological vestiges deriving from his collection, as well as from forgotten antiques in the house, books on mathematics, drawings of molecules inspired by Max Planck's theories, incredibly dense paintings of dozens and dozens of accumulated layers, minerals, mosaics, plants, soil, soil, soil, sequences of sacred mathematics and the embrace of a soundscape designed to inscribe its echoes in the space.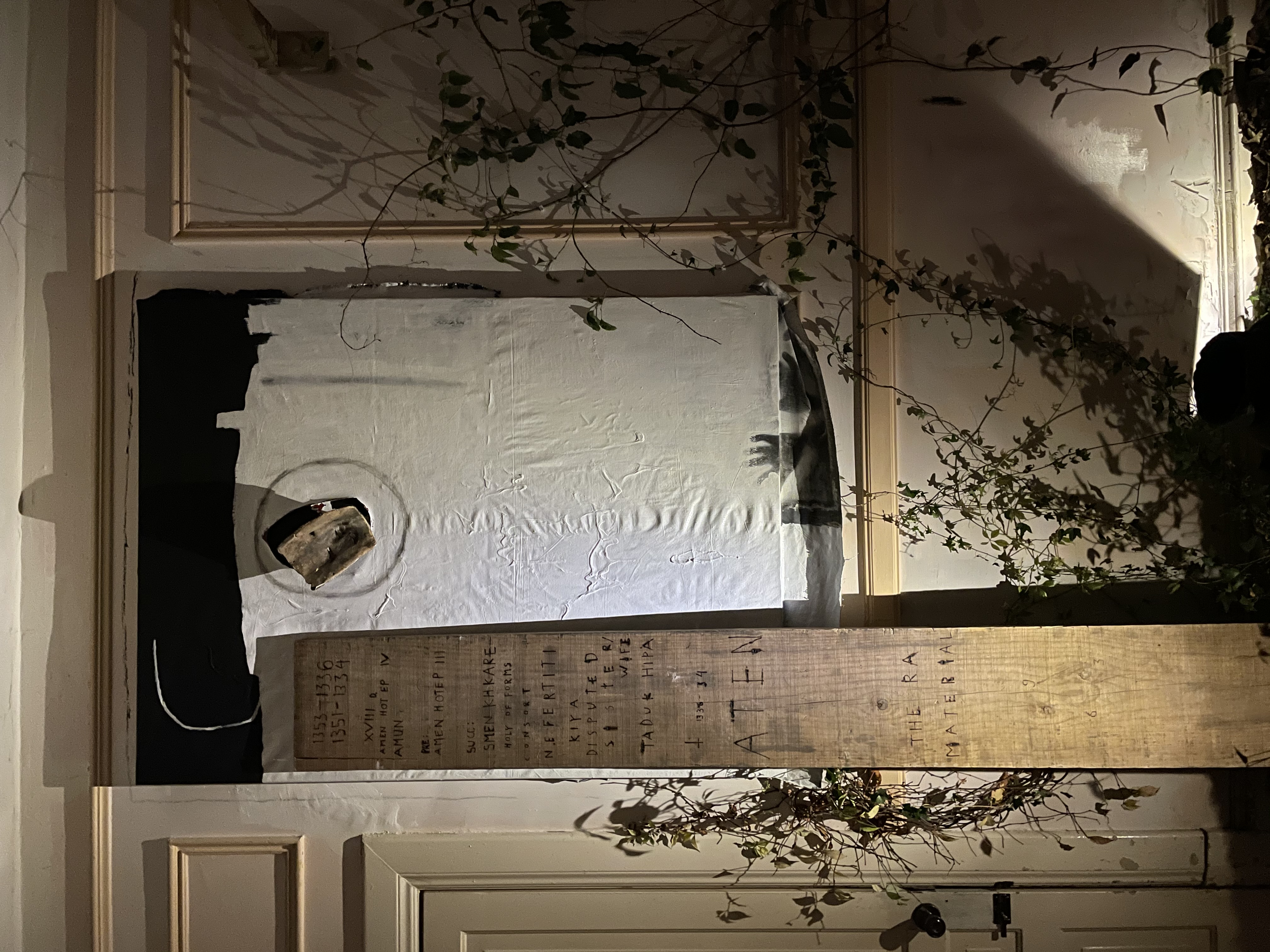 (((((((Excavation and Burial)))))))
In a recent talk, the sound artist Adriana Santiago shared the story of the word humilde ("humble") and how it has been distorted with use, considering that its origins are in the Latin word humus, meaning earth or soil—one's feet on the ground. Roberto Del Río's works have something of that: the soils of different ecosystems mixed with pigments and layers of paint, dust intentionally accumulated on the works in order to mark the passage of time before being carefully encapsulated in acrylic, the new flooring chosen for the house, the ground of the southeast jungle where some paintings have been drenched by rain and buried for up to a year before reemerging from their calculated hibernation.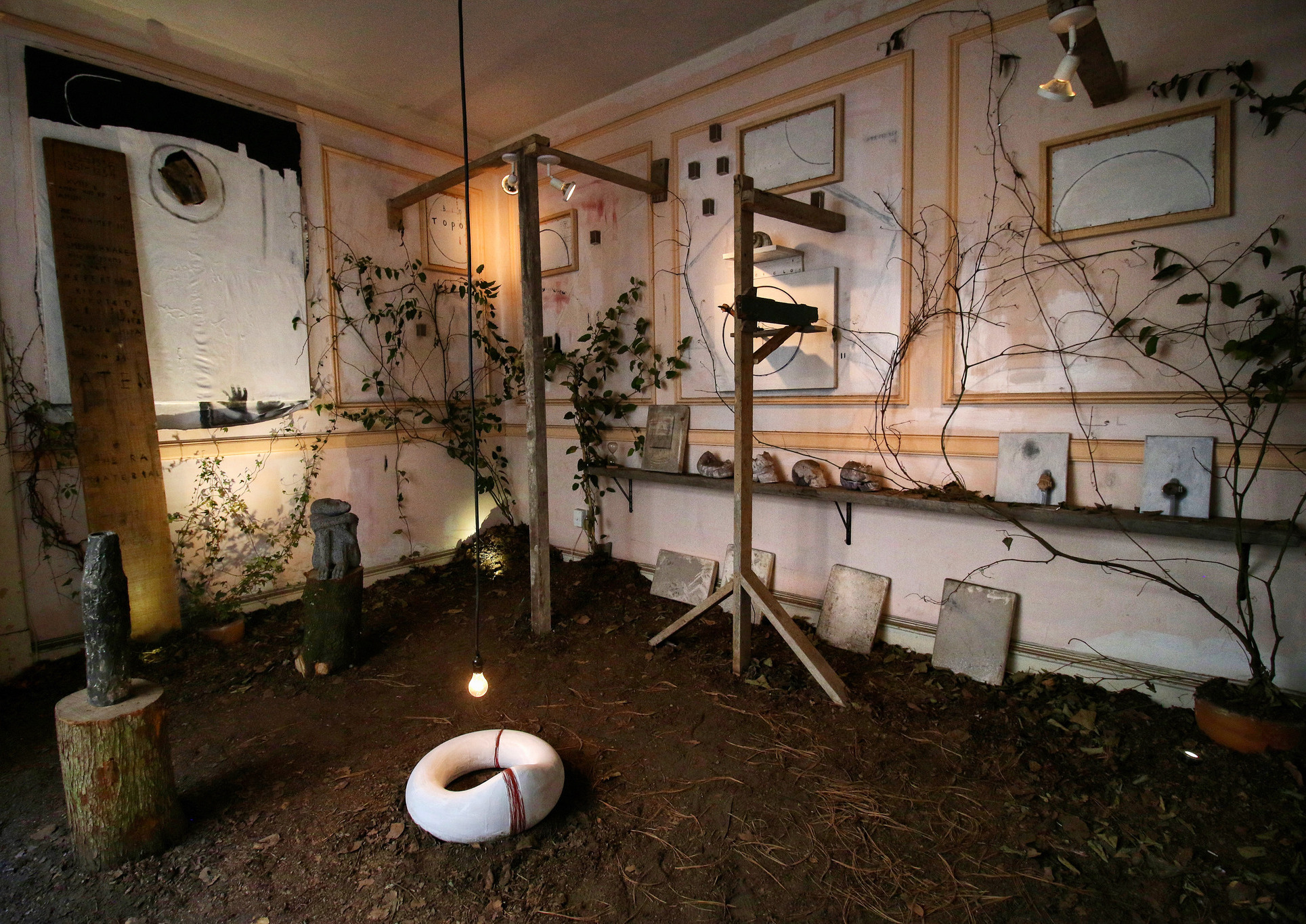 It's a matter of a time registered as fictional, neither positivistic nor whimsical, but rather intuited from the collision between linear time and the inexhaustible whirl of a torus, materialized in a double movement of excavation and burial. A return in search of traces of the ancients in order to prepare signs that will be passed on, a space written as a history of a poetic nature.*1
To visit Arqueología Futura, schedule your appointment here.
*1 In his book Metahistory: The Historical Imagination in Nineteenth-Century Europe, the philosopher and historian Hayden White argues for the impossibility of a distinction between history and fiction.
Translated to English by Byron Davies.